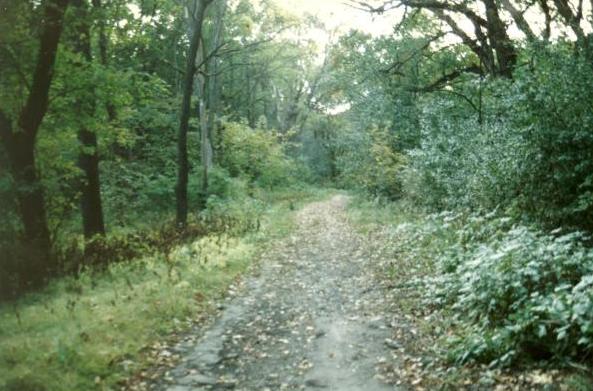 Bachelor's Grove is located near Central Avenue (west of Cicero) and Midlothian Turnpike, at the point where it joins 143rd Street.
The Rubio Woods Forest Preserve parking lot is located on the north side of Midlothian Turnpike, and is the only place to legally park in the immediate area. The Forest Preserve closes at dusk. Across from its entrance, on the south side of the street is an electrical substation. A few feet west of this, approximately where the road curves to the west, are the posts marking the entrance to Bachelor's Grove.
The road here was closed in 1977, and the posts prevent automobile traffic. However, it is still easily accessible to bicyclists and pedestrians. Beyond the posts is a path through the woods - the remnant of the Midlothian Turnpike, the surface of which was ripped out in 1994. If you follow the path for about a quarter mile, the cemetery will come into view on the right.
WARNING: Do not go in or near Bachelor's Grove Cemetery at night. Do not go in or near Bachelor's Grove Cemetery at Halloween, or for several weeks before or after that date. You will be arrested and charged with trespassing.

The author of graveyards.com recommends that you don't go to Bachelor's Grove at all.