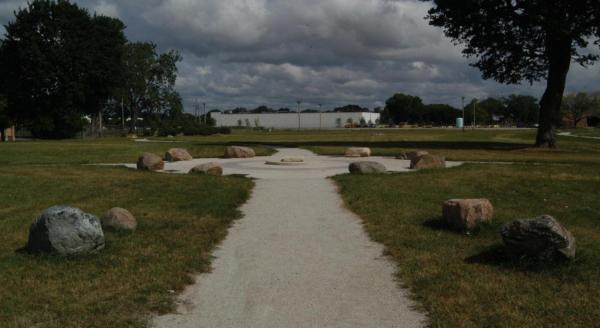 A path leads from the street, between a series of rough granite boulders, towards a concrete disk. (This photo was taken in 2004, before the construction of the arch which now spans the entrance).
A large bronze plaque on the far edge of the disk reads:
Cook County Cemetery at Dunning - 1854
An institutional cemetery was established on this site in 1854 on land that was a part of the 20-acre Cook County Poor Farm. It soon became the potter's field for the forgotten and poor of Chicago and Cook County.
Buried here are as many as 38,000 people including children, inmates of the poor house and insane asylum, 117 victims of the Chicago Fire of 1871, and Civil Ware veterans. Often referred to as the County Ground, Cook County Farm Cemetery, Cemetery at Jefferson, or Poor House Cemetery, it was renamed Chicago State Hospital Cemetery in 1912.
This marks the site of the main section of this historic burial ground. Another section of the cemetery is located west of the intersection of Irving Park Road and Oak Park Avenue.
As you walk through this three acre memorial park, you will come across markers dedicated to those who died at various periods in Cook County's history. Peace be upon them all.