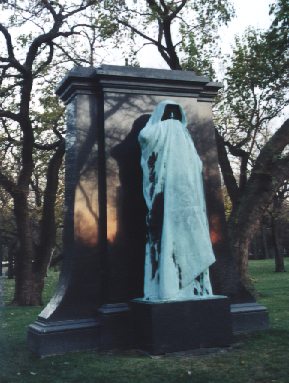 A robed and hooded bronze figure stands before a polished black slab of granite, its face partially hidden by one arm. Eternal Silence, also called the "Statue of Death", was created by sculptor Lorado Taft in 1909.
Eternal Silence marks the plot of hotelier Dexter Graves (1789-1844), who, in 1831, brought the first colony to Chicago from Ashtabula, Ohio.
Lorado Taft links
---
The ashes of architect William Le Baron Jenney

(1832-1907) were scattered over his wife's grave, just south of Eternal Silence. Jenney designed the world's first modern skyscraper, the 10-story Home Insurance Building (1884).