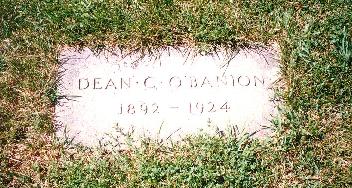 Dion Charles "Deany" O'Banion (1892-Nov 10, 1924)
"Chicago's arch criminal, who has killed or seen to the killing of at least twenty-five men."
--Chief of Police Morgan Collins
"We're big business without high hats."
--O'Banion
Charles Dion O'Banion was born to Irish immigrant parents in Aurora, Illinois, west of Chicago. His family soon moved to Chicago, to an Irish neighborhood that was seeing a steady influx of Sicilians, an area that had one of the highest murder rates in the city.
O'Banion served as altar boy and choir boy at Holy Name Cathedral, but by ten was already a thief, and by seventeen, a hired thug. He spent nine months in prison between 1909 and 1911, but afterwards had enough influence to avoid sentencing. He later assembled a gang that included Hymie Weiss, Schemer Drucci, and Bugs Moran. O'Banion's North Side gang engaged in burglary, safecracking, hijacking, and liquor bootlegging - the most profitable activity of all.
O'Banion was a gentleman. By day, he ran a flower shop, across the street from Holy Name Cathedral. He truly loved flowers, and worked enthusiastically in his shop. Whenever an organized crime figure was killed, etiquette demanded that his compatriots and his rivals - even the killers - each spend thousands of dollars on floral tributes, and O'Banion was the supplier of choice. It was O'Banion who popularized the wearing of suits and ties among gangsters, and he tried to refine their speech and manners as well.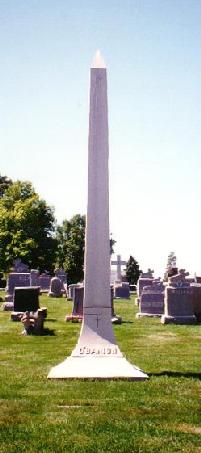 Johnny Torrio, Chicago's top crime boss, declared and enforced a peace treaty - each gang would sell on their own territory, and not interfere with their rivals' shipments of liquor. Torrio's peace lasted nearly three years.
When the Genna gang began to undercut O'Banion's prices for whisky, O'Banion demanded that Torrio and Capone control the Gennas. When this had no effect, O'Banion took stronger measures himself, hijacking a $30,000 shipment of Genna whisky. The Gennas decided to kill him then, but were persuaded not to act by Mike Merlo of the Unione Siciliane. In May of 1924, O'Banion learned that a police raid would be taking place on Sieben's Brewery.

He quickly sold the brewery to Torrio and Capone, and the raid took place on the day of the transfer. This insult was intolerable. Torrio and Capone now took sides with the Gennas. O'Banion's words, "Tell them Sicilians to go to hell.", infuriated them further.
When Mike Merlo died of cancer, O'Banion began assembling flowers for the funeral. On November 10, 1924, three men entered the flower shop. O'Banion went into the back room with his visitors, shutting the door between him and his employee William Crutchfield, who was sweeping up the front. Crutchfield heard shots, saw the three men run out, and found O'Banion dead on the floor, surrounded by flowers he had knocked over in his fall.
O'Banion's murder was never solved. It is now thought that one of the killers was Mike Genna, who shook O'Banion's hand and pulled him forward while his triggermen John Scalise and Albert Anselmi shot him. Hymie Weiss, new leader of the O'Banionites, swore vengeance.
Dion O'Banion's casket cost $10,000, and the funeral procession to Mount Carmel was a mile long, with 26 cars and trucks just to carry the flowers. The procession and burial included 15,000 mourners. His grave was dug in unconsecrated ground, as Cardinal Mundelein refused to allow such a notorious criminal to be buried among good Catholics. Five months later, his wife finally was able to move O'Banion's remains to the cemetery proper, and erect a shaft reading "My Sweetheart". Cardinal Mundelein ordered the monument removed, but a later obelisk was allowed to remain.
Ironically, the man who had initially been refused burial in consecrated ground is now in the most prestigious part of the cemetery, only a few hundred feet from the Bishop's Mausoleum.
graveyards.com - copyright 1996-2002 Matt Hucke