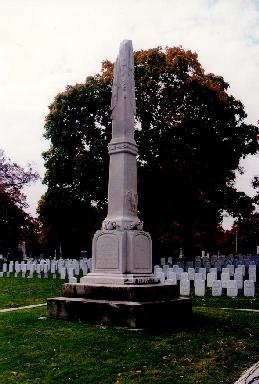 Major General
Thomas Edwin Greenfield Ransom
Born Norwich Vt Mar 29 1831
Died Near Rome GA Oct 29 1864
Thomas Ransom enlisted in the 11th Illinois Infantry in 1861 and within three months ascended to the rank of Lieutenant Colonel. He was wounded in battle in Charleston Missouri and again at Fort Donelson. After being wounded a third time at Pittsburg landing, he was promoted to Brigadier General - and wounded again. Ransom was known as the "Phantom General" due to having been assumed dead so many times.
During General Sherman's march to the sea, Ransom aggravated his recent wound, collapsed and died on Oct. 29, 1864.