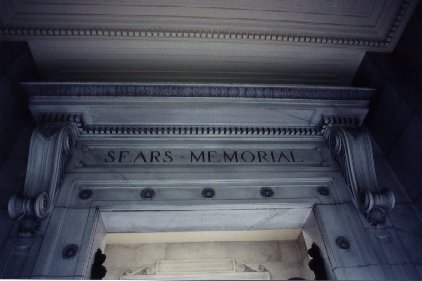 Richard Warren Sears, born December 7, 1863, died Sept. 28 1914, was the founder of Sears, Roebuck and Company

, one of the the world's most successful department store chains.
While working as a train station agent in Minnesota, Sears accepted delivery of a shipment of watches that had been refused by the intended recipient. He was able to sell the watches quickly at a very good price, and soon established the R. W. Sears Watch Company in Minneapolis. Taking his business to Chicago in 1887, he soon hired Alvah Roebuck as a watchmaker. By the next year, he had issued a mail-order catalog.
After leaving the business for a short time, Sears returned in 1892, changed the company name to "Sears, Roebuck and Company", and began to sell merchandise other than watches, mainly via mail order. Sears wrote the catalog himself, and it quickly expanded in size. He offered excellent prices and a "send no money" policy. By 1894 the catalog had grown to five hundred pages.
Sears resigned from his company in 1908, leaving it in the hands of Julius Rosenwald, who had replaced Roebuck in 1895. He retired to Waukesha, Wisconsin, where he died in 1914 at the age of fifty.
Richard Warren Sears now resides in one of the larger private rooms in Rosehill Mausoleum, directly behind a normal-sized doorway to the outside in the East wall.
The ghost of Mr. Sears is thought to haunt this mausoleum. Some have claimed to have seen the figure of a tall man in a top hat within Sears' locked room, walking toward the crypt of A. Montgomery Ward. These two titans of the mail-order business are entombed only a short distance apart - bitter rivals in life, neighbors in death.