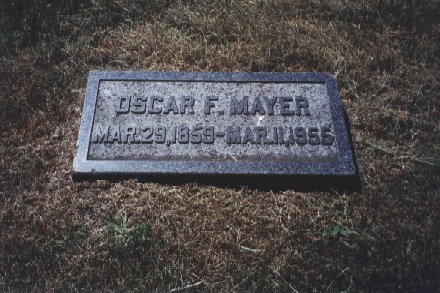 Oscar Mayer was born in Bavaria in 1859. In 1873, he accompanied his cousin to America after the family grocery business failed. Mayer worked in a butcher shop in Detroit until 1876, when the he moved to Chicago and began to work at the Armour meat packing company, and later the Kohlhammer meat market.
In 1883, Oscar Mayer and brothers Gottfried and Max rented a small butcher shop on Sedgwick Street, which they renamed "Oscar Mayer and Brothers Company", specializing in sausages. The company employed salesmen and delivery agents to serve the entire city of Chicago and suburbs. By 1900, they had 43 workers. The company relocated to Madison in 1919, but maintained a plant in Chicago, where Oscar Mayer continued to live.
In 1929, Oscar Mayer became the first company to identify their sausages with a brand name - wrapping them with a yellow paper ring. [Sawyers 1991] The Wienermobile TM came in 1936, at the suggestion of nepher Carl Mayer, promoting "German Style Wieners" on the streets of Chicago. The original 13-foot Wienermobile was replaced and supplemented over the next few decades by newer and largermodels. Today, several Wienermobiles remain in service in various countries. [Kraft (WWW) 1996]
Mayer was active in his company until his death in 1955, visiting his plant regularly and serving as chairman of the board until the end. He died weeks before his ninety-sixth birthday. [Heise 1973][Sawyers 1991]
Today, Oscar Mayer Foods

is a division of Kraft. "Oscar Mayer®" continues to be one of the best-known names in the meat industry.
References