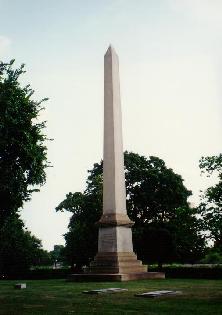 John Wentworth
Republican
Mayor "Long John" Wentworth (1815-1888), received his nickname due to his 6'6" height.
On one occasion, Mayor Wentworth introduced the Prince of Wales from the balcony of the Tremont House Hotel to a crowd below. "Boys, this is the prince. Prince, these are the boys."
Wentworth chose to have the tallest monument at Rosehill, a 72-foot obelisk erected before his death at a cost of $38,000. A small headstone marked simply "J.W." is directly in front of the obelisk, with other relatives off to the side. His wife and children are not buried here, but their names and dates appear on the back of the obelisk.